In the current NR specifications [2], [3], Discrete Fourier transform-spread orthogonal frequency-division multiplexing (DFT-s-OFDM) [14] is used for the uplink transmission, especially in coverage limited scenarios.
This waveform is also referred to as single-carrier FDM waveform (SCFDM) in the literature.
In 3GPP 5G NR, QAM modulation symbols with modulation order (4, 16, 64, 256) can be transmitted using the DFT-s-OFDM
When compared to LTE, a new modulation scheme, namely, π 2 -BPSK was introduced in 5G NR
This is a special constellation-rotated BPSK modulation, such that even-numbered symbols are transmitted as in BPSK and the odd-numbered data symbols are phase rotated by π
The π 2 -BPSK modulation scheme when transmitted using DFT-s-OFDM has a low PAPR when compared to higher-order modulation schemes including QPSK as the zero-crossing transitions are avoided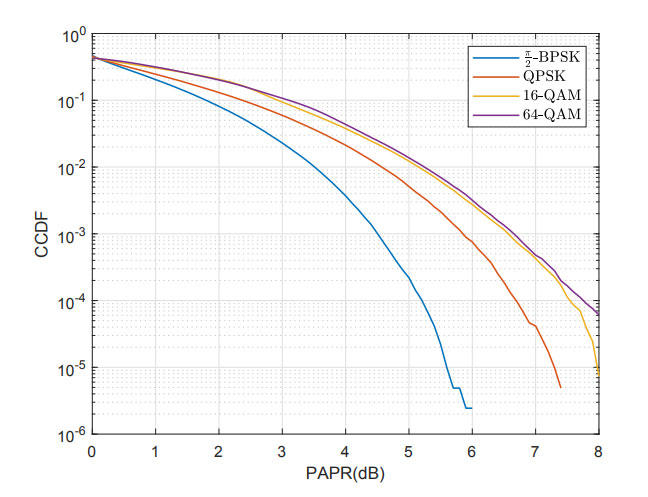 The PAPR for various modulation schemes is shown in above, which clearly shows the low PAPR behavior of the π 2 -BPSK modulation scheme. Note that, although the constellation is similar to QPSK, we can only transmit 1-bit on one π 2 -BPSK modulation symbol.
For a cellular network, uplink transmissions define the coverage area.
This is because the transmission power in the uplink is limited to 23 dBm at the user equipment (UE) owing to hardware limitations (such a battery size) and regulatory constraints as opposed to 43 dBm at the base station in the downlink.
This limited transmission power in the uplink must, therefore, be used carefully to enhance cell coverage without increasing the CAPEX/OPEX costs of deploying more cell sites.
Therefore the uplink design of a cellular standard is crucial in enabling uplink transmissions at high powers without saturating the power amplifier, which otherwise results in unwanted non-linear distortions.