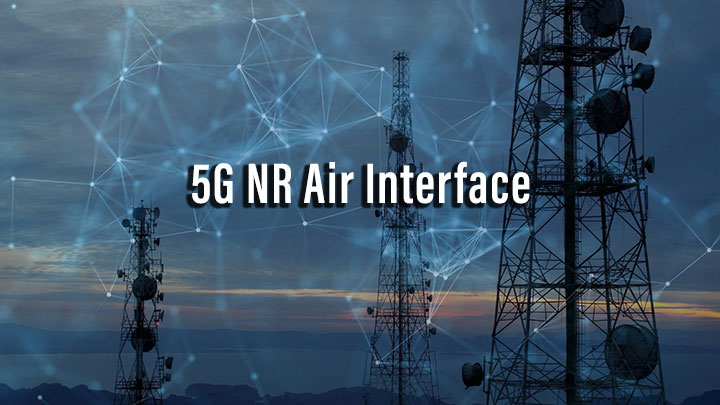 6 (Registered)

(0 Review)
5G NR Air Interface/Classroom replay
The 5G air interface is a key part of the 5G system which will facilitate Enhanced Mobile Broadband and Ultra-Reliable Low Latency Communication, as well as the support of Massive IoT. The course focuses on the initial NSA (Non-Standalone) operation, also known as EN-DC. In so doing it identifies the 5G NR (New Radio) air interface, from the physical layer operation to higher layer support of services. In addition, modification to existing LTE procedures are also examined, as well as NSA based mobility
5G system architecture
Overall network architecture
5G identities
5G NR Roadmap:
Early Drop, Main Drop, and Late Drop.
5G RAN Deployment Options:
Option 3, Option 3x, Option 3a, Option 2, Option 7 and    Option 4.
EN-DC, NGEN-DC, NE-DC.
Standalone Architecture.
Non-Standalone Architecture.
5G Physical Layer
5G Waveform: CP-OFDM and DFT-s-OFDM:
OFDM Subcarriers.
Orthogonal Frequency Division Multiplexing.
Cyclic Prefix.
5G NR Duplexing:
FDD and TDD Duplexing Modes.
Supplementary Downlink.
Supplementary Uplink.
5G Frequency Bands:
Definition of Frequency Ranges.
5G NR Bands.
EN-DC Band Combinations.
Baseband Processing Combination.
Harmonics and Intermodulation.
5G Carrier Numbering.
5G Physical Layer
NR Numerology and Frame Structure:
Numerology in 5G.
Frame Structure.
NR Slots.
5G NR Time Unit.
NR Cyclic Prefix.
NR Physical Resource Block and Resource Grid.
5G NR Transmitted Signal.
Slot Format Configuration.
Uplink Timing.
Channel Bandwidth:
Maximum Transmission Bandwidth.
Carrier BWP (Bandwidth Part
NR Channels:
Logical Channels.
Transport Channels.
Mapping Logical Channels into Transport Channels.
Physical Channels.
Mapping Transport Channels to Physical Channels.
Synchronization and Reference Signals.
NR Physical Layer Processing:
Key Specifications.
Code Block Generation.
Code Block Group.
Processing Chain.
NR Downlink Physical Channel
Downlink Synchronization Signals:
Physical Broadcast Channel:
Master Information Block.
PBCH Payload.
PBCH Physical Layer Processing.
DMRS for PBCH.
Physical Downlink Control Channel:
PDCCH Physical Layer Processing.
PDCCH Features.
CORESET.
CORESET Configuration.
CORESET Configuration for EN-DC.
Other PDCCH Usages:
MU-MIMO and Beamforming.
Physical Downlink Shared Channel:
NR Uplink Physical Channel
NR Physical Random Access Channel:
Preamble Sequence Generation.
Configuring RACH/PRACH.
NR PRACH Configuration Index.
Preamble Formats.
Preamble Sequence.
NR PRACH Format 0 Example.
NR PRACH Format – CP Size.
NR Physical Uplink Shared Channel:
NR PUSCH Processing Chain
Configuring NR PUSCH
PUSCH DMRS.
NR Physical Uplink Control Channel:
NR PUCCH Formats.
NR PUCCH Location Example.
NR PUCCH Configuration.
NR PUCCH Format 0 Example
5G Reference Signals.
Channel State Information – Reference Signals:
CSI-RS Types.
CSI-RS Features.
CSI-RS Locations in a Slot.
CSI-IM Patterns.
CSI-RS Configuration.
ZP-CSI-RS Configuration.
CSI Timing.
Sounding Reference Signal:
Phase Tracking Reference Signal.
5G Access Process
Initial Access:
Network Access Procedure.
PLMN and Access Network Selection.
Scanning.
GSCN Number and Raster.
SSB Operation.
Deriving SSB Index.
Downlink Synchronization.
SI Acquisition – MIB/SIB1/RMSI.
Example of SI Mapping.
System Information Block 1.
System Information Types.
Cell Selection.
Random Access:
Random Access Triggers.
Contention Based Random Access Procedure.
PRACH Preambles.
RACH Configuration Common.
Preamble Options.
Preambles per SSB per PRACH Occasion.
SS/PBCH Index Mapping to PRACH Occasion.
Random Access Response Window.
Random Access Response Message.
PRACH Power.
Contention Free Random Access Procedure.
5G Network Registration:
RRC Setup.
5G Registration Procedure.
Device Capabilities
EN-DC Access procedure
Attaching and EN-DC Operation:
Initial E-UTRA Attach.
UE Capabilities.
E-UTRA Measurements for EN-DC:
EUTRA Measurement Configuration Options.
Measurement Objects.
Report Configuration.
LTE Events Summary.
Measurement Identities.
NR Measurement Timing Configuration.
Identifying Suitable NR Cell.
Measurement Report.
PSCell Addition:
SgNB Addition Request and Request Acknowledge.
RRC Connection Reconfiguration.
Reconfiguration with Sync.
PSCell Split SRB.
PSCell Split DRB.
Secondary Node Release.
Random Access Process.
EN-DC Radio Link Failure:
RLF Configuration.
Out-of-Sync and In-Sync.
Failure Report
NR Mobility
NR Idle Mode Mobility:
Multi-Beam Measurement Quantity.
NR Cell Reselection.
Priority Based Inter-RAT Cell Reselection.
NR System Information Messages.
Reselection to a Higher Priority Frequency or RAT Cell.
Reselection to a Lower Priority Frequency or RAT Cell.
Deleting NR Priorities.
Registration Area Update.
Xn Based Handover:
Handover Procedure.
RRC Connection Reconfiguration.
Path Switch Procedure.
RRC Inactive Mobility:
I-RNTI.
RAN Notification Area.
RRC Resume Procedure.
Inter MeNB Handover with EN-DC:
MeNB Handover Procedure.
RRC Connection Reconfiguration
Course Content
Total learning:

5 lessons
Time:

12 hours
5G NR Air Interface