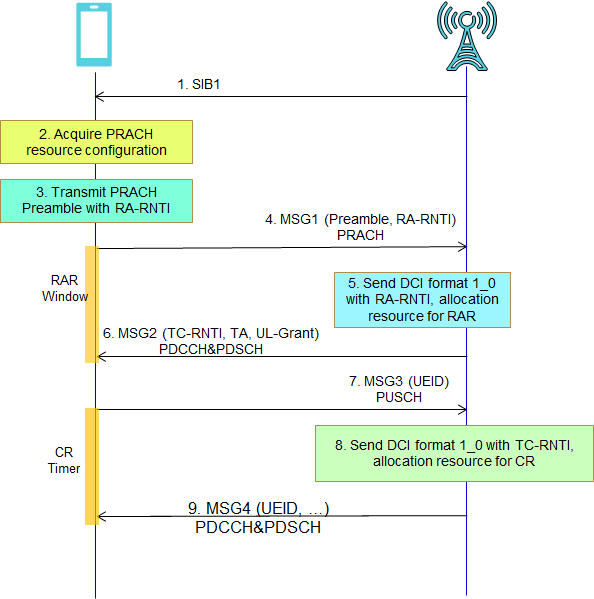 Random Access: Random access required to do uplink synchronization between UE and eNB and gNB.
There are 2 types of Random Access Procedure in 5G Network.

Contention Based Random Access(CBRA): UE selects a random access preamble from a pool of preambles shared with other UE, so in CBRA UE taking the risk to select the same preamble as another UE.
 Contention Free Random Access: 5G Base station allocate a dedicated random access preamble. 
Contention Based Random Access
Contention Based Random access has four-step

MSG1 ( UE to gNB or MN-eNB)
MSG2 ( gNB to UE)
Msg3 (UE to gNB)
Ms4 (gNB to UE)
Message 1- UE–gNB or MN-eNB
Receive SSB( UE measure the RSRP on each received beams, selects the SSB and read the system information Block.
RMSI for a standalone scenario or RRC reconfiguration for NSA to determine PRACH configuration. Here we will check( RACH occasion: time-frequency resources, prach preamble format, Root sequence index(RSI)
Calculate RA-RNTI: The RA-RNTI associated with the PRACH in which the Random Access Preamble is transmitted if all condition for PRACH transmission is met.
Calculate PRACH TX power
Transmit the preambles
 UE select the preamble which is available in CBRA access or Pool, here we have a parameter ( totalNumberOfRA-Preambles) , 

Contention based preambles with consecutive indexed associated with SS/PBCH block n, 0≤n≤N-1, per valid PRACH occasion start from the preamble index n.N total preamble/N where N total preamble.

A UE is provided with a number

N

of SS/PBCH blocks associated with one PRACH occasion and a number

R

of contention-based preambles per SS/PBCH block per valid PRACH occasion by

ssb-perRACH-OccasionAndCB

PreamblesPerSSB

.  means 

ssb-perRACH-OccasionAndCB

PreamblesPerSSB

allows the UE to quantify the number of contention-based PRACH preambles associated with each SSB beams.
ssb-perRACH-Occasion

means a number of SSB beams sharing the same PRACH occasion,64 preambles.
Now  

SSB-perRACH-OccasionAndCB 

PreamblesPerSSB , If N= 1, SS/PBCH block is associated with 64 preambles

 
Now  

SSB-perRACH-OccasionAndCB 

PreamblesPerSSB , If N<1, SS/PBCH block is associated with 1/N , consecutive valid PRACH occasions and

R

contention-based preambles with consecutive indexes associated with the SS/PBCH block per valid PRACH occasion start from preamble index 0.

Now  

SSB-perRACH-OccasionAndCB 

PreamblesPerSSB , If N≥1,  R

contention-based preambles with consecutive indexes associated with SS/PBCH block

n

0≤n≤N-1,